MarTech Stack Management Made Easy
No more spreadsheets. We promise.
---
Your martech stack under one roof
All of your marketing solutions, tools and software, subscriptions, contracts, agreements, renewal dates, notes, documents, owners, etc. stored in a centralized secured cloud-based environment powered by Heroku and AWS.
Search across an inventory of over 1,000s tools
Add custom/homegrown tools
Quickly search and find tools
Keep track of statuses: in use, canceled or in testing stage
Organize your technologies by category and by team
Keep it private for you and your team only, or share it with others.
Stay organized and help your team find the tools they need to get the job done.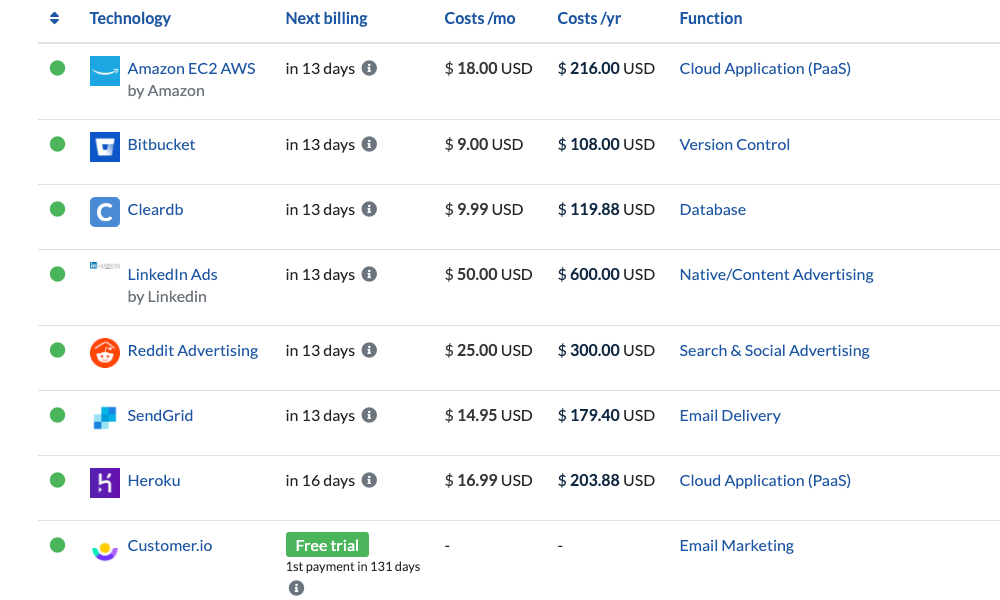 ---
Visualize your stack
With the blueprint mapping tool, quickly build a blueprint of integrations between your applications. Easily shareable with others. Plan replacement of existing technologies, or new purchases, proactively and efficiently without breaking any existing data flow.
Build a customizable blueprint of your technologies
Visualize all solutions, tools and systems
Identify processes, integrations and data flows
Consolidate overlaping technologies
See how new technologies fits into the current ecosystem
Get everyone on the same page.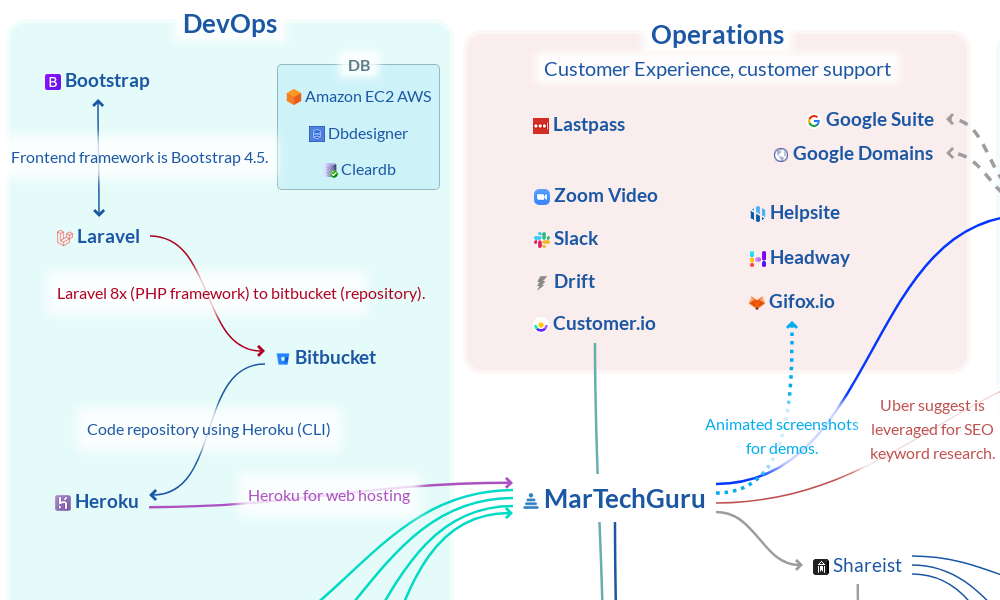 ---
Capture important data
The TechStack Manager acts as a CRM for your technologies: create unlimited custom fields to capture important information for each of the solutions in your inventory:
Start and end of subscription/contract
Business, technical owners
Teams, departments, divisions
Who has access to solutions
Vendor name, contact information
Number of licenses / seats
Renewal dates
Login information
Etc.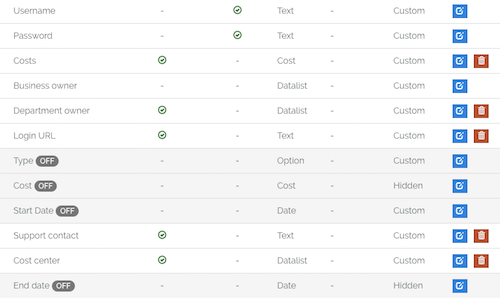 ---
Manage contracts & subscriptions
Evaluate your technology investments periodically to ensure it meets your ROI and business goals. By monitoring upcoming subscriptions and contract renewals, you can make the business decisions more proactively:
Subscriptions, contracts, free trials, free tools
Costs of each system
Billing cycles/frequency (weekly, bi-weekly, monthly, quaterly, annual)
Payment methods (credit card, procurement)
Next payment dates
Renewal dates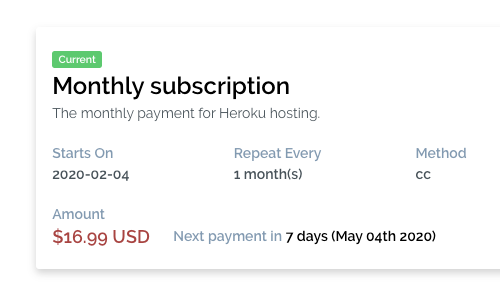 ---
Payment alerts
Don't get caught offguard by contract renewals. Cancel subscriptions that no one uses. Keep control of your expenditure.
Set up unlimited automatic alerts for each tool
Notifications can be sent via email or Slack to anyone in your team (SMS soon)
Set up different dates and times (based on the organization's timezone)
Customize the messaging for each alert
Any user can receive notifications:

Business owners
Technical owners
Team leaders
Procurement team
etc.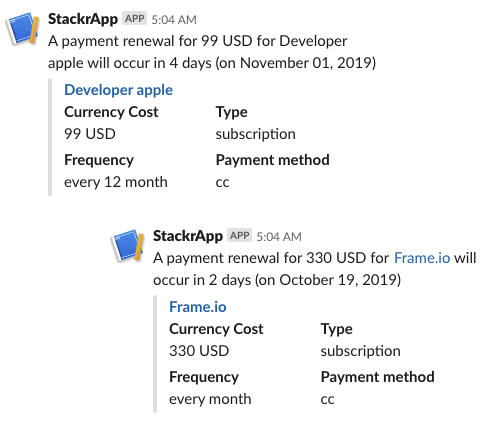 ---
Document management
Keep track of agreements, contracts, contrack renewals, documentation, etc. for each of the solutions in your technology stack.
Upload unlimited documents
Easily search and filter to find documents
Categorize your documents per tool, billing cycle, owner
Download or view documents in your browser
Securely hosted on Amazon AWS S3 servers. Encrypted and only-accessible by your team.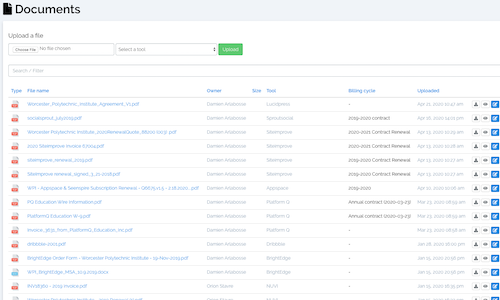 ---
Budget forecasting
Stay in control of your budget and budget planning. With the budget forecasting tool, you can easily identify upcoming subscription and contract renewals.
Proactively review each system with your users
Review system alignment with business goals and ROI
Initiate internal conversations about system replacement ahead of time
Start renegotiating contracts proactively
Visualize future expenditure and keep your budget on track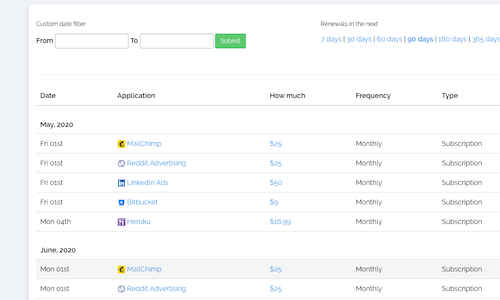 ---
Collaborate with others
Add unlimited users
Keep track of who has access to what
Identify the business/technical owners
Control which information each of your users see
Share administration rights with others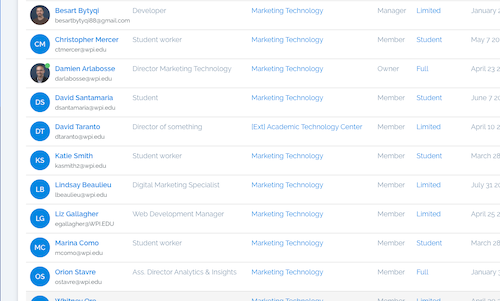 ---
And more...
Journal and notes
Keep a log of notes for each solution, conversations with vendors, negotiations, bugs and issues.
Knowledge base
Add how-tos and FAQs accsible by users of your stack.